timsTOF fleX is now available with the innovative and powerful MALDI-2 technology option. This post-ionization technique leads to both a significant boost in ion yields and reduction in ion suppression effects, resulting in a signal increase of up to 1-3 orders of magnitude compared to traditional MALDI experiments. For a MALDI Imaging experiment, this increased efficiency translates to more than double the number of molecules detected per pixel resulting in much improved physiological context.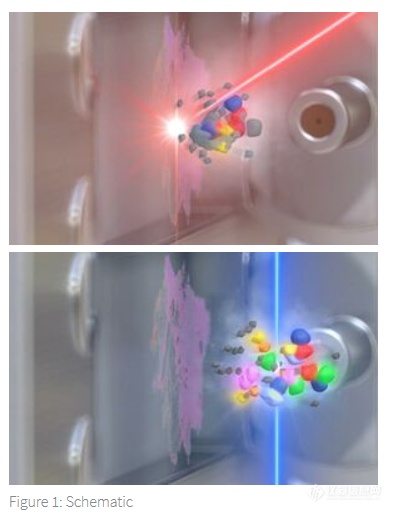 Ionizing a Wider Range of Compound Classes by Reducing Ion Suppression Effects
MALDI-2 Technology empowers your MALDI Imaging studies with unsurpassed sensitivity and the ability to map more compounds. Laser based post-ionization enhances the detection of numerous classes of biomolecules that aren't typically ionized in the traditional MALDI experiment. MALDI-2 also increases sensitivity for targeted analytes in MALDI Imaging especially by enhancing ion yields and reducing ion suppression effects.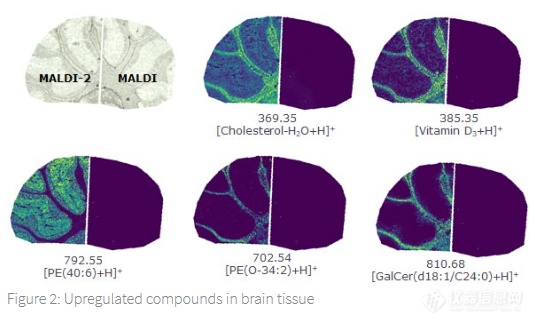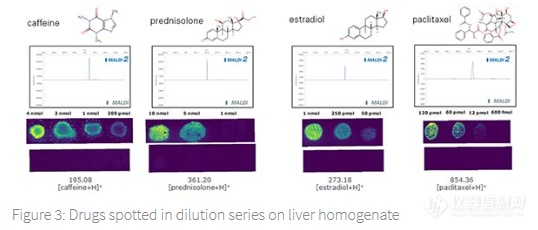 A major limiting factor in modern drug development is use of the "well-stirred model" which homogenizes organs and tissues prior to analysis and quantitation with LC-MS studies. This approach is well-suited to providing exact amounts of drugs and metabolites within a target organ, but not readily compatible with pathology methods that seek to describe physiological effects of drug compounds. MALDI imaging has made a significant impact towards the conversion of plasma to tissue models by pinpointing the exact location of drugs and metabolites in tissue. MALDI-2 enhances molecular imaging for pharma studies by increasing overall sensitivity enabling quantitation for a wider range of dosing levels. Additionally, the increased variety of molecular classes seen by MALDI-2 expands the applicability of imaging to many more pharma projects that involve both xenobiotics and endogenous molecules.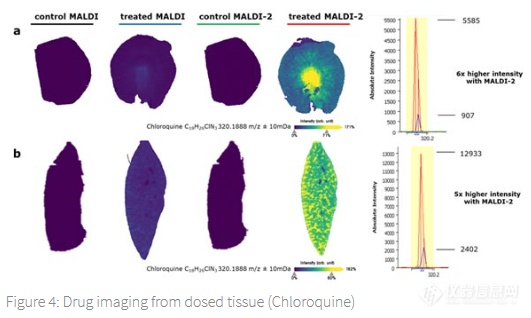 OMICS studies involving small molecules desorbed from tissues sections such as lipidomics and Metabolomics typically involve biomolecules from a wide variety of chemical classes. These studies benefit from MALDI-2 as the technique provides access to many more compounds, providing unique insight into nature's complexity.. The combination of TIMS and MALDI-2 is uniquely powerful as richer ion yields from the post-ionization process produce mass spectra with higher information content. TIMS provides fast orthogonal separation that efficiently unravels these complex spectra where each m/z can contain many overlapping features. The result is not only the ability to extract information from single isobars, but also exact masses that have different ion mobilities. Collisional Cross Section (CCS) values are recorded for each one of the spectral components for comparison to databases or LC/MS results.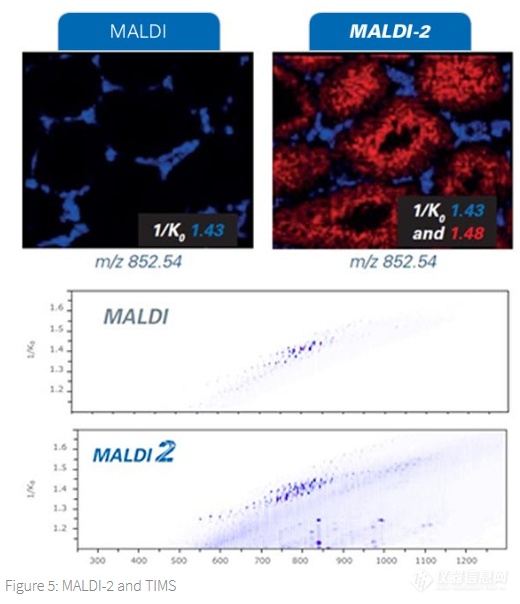 Bruker supplies all elements needed for performing successful MALDI-2 experiments from the necessary matrix and IntelliSlides, to expert application support, and intuitive and user-friendly software solutions.
MALDI-2 enables access to chemical classes typically prone to ion suppression in MALDI

Sensitivity boost by up to 2-3 orders of magnitude compared to MALDI, depending on sample, matrix and analyte

No physical hardware changes needed, switch between MALDI and MALDI-2 with one click in the software

User friendly software solution, easy instrument calibration and application scientist tested methods to start measurements immediately

easy to use consumables available to provide complete solution